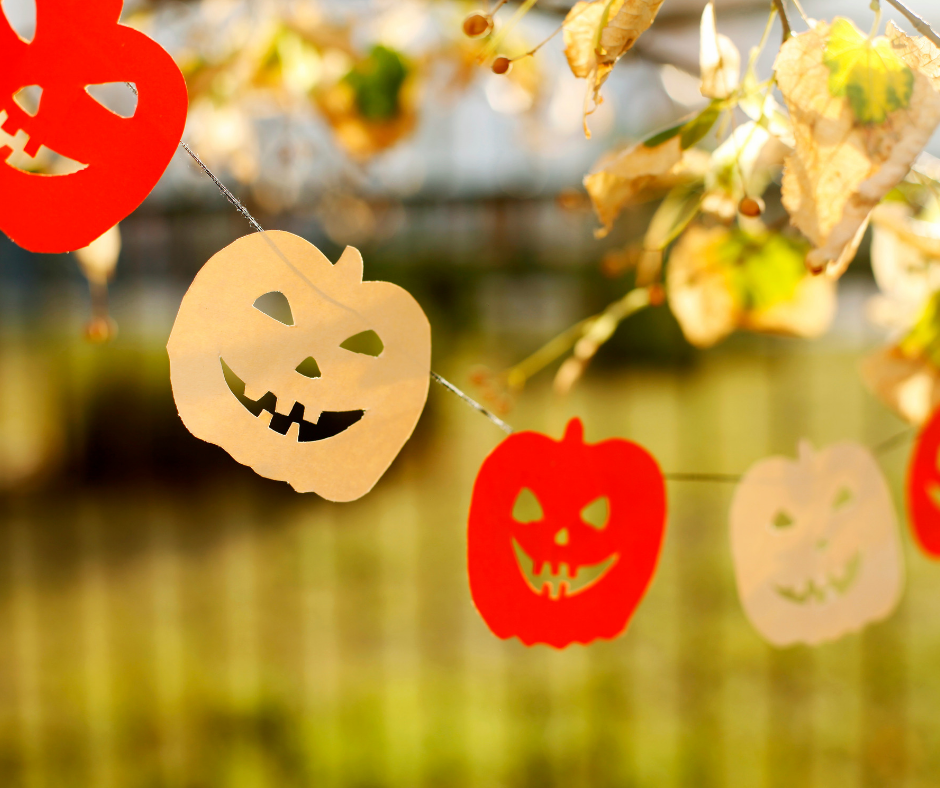 Tips to decorate your home when it's for sale on Halloween
Fall is a great time to sell your home – and Halloween is one week from today!   Trick-or-Treaters, Jack-o-Lanterns, crunchy leaves and a ton of candy comes to mind.  It's one of my family's favorite holidays, so we are all about it!
But if you are trying to sell your home, you may wonder what the best strategy is for decorating and presentation on Halloween.  There's no expectation that you have to, but decorating can be a great way to make your home stand out in your neighborhood and show off great curb appeal.  Here are eight tips to help you decorate and bring spooktacular attention to your already great property!
Take all pictures before you decorate
Great pictures sell.  So before you dig out your holiday decorations, make sure your home is freshly cleaned and staged appropriately and take pictures.  No matter the size of your home, your Realtor® will want to take plenty of good quality, timeless photos that showcase the best features of your home any time of the year.
Stay within your neighborhood's spirit of Halloween
Your goal is to stand out from the other homes in your neighborhood – but don't overdo it!  So if you live in a neighborhood that rarely sees a Trick-or-Treater and has few neighbors who decorate for Halloween, then Halloween presents a great opportunity to add some curb appeal.  Just keep it simple and friendly.  But if you live in a neighborhood like Briarwood's Pumpkin Alley and all your neighbors go all out to welcome 3,000+ Trick-or-Treaters every year, then you may be in for a bit more work!  Either way, have a plan and stick to it – and buy enough candy!!
Keep most of the decorations outdoors
If you have prepared and staged your home properly to sell, you know it takes a lot of time and effort to keep it that way.  So while adding a few friendly or even cute Halloween items in a few key places like the foyer or kitchen can be very inviting, it's best to limit decorating to the front porch.
Remember! Your goal is to showcase all the best features of your home. Inside and out, you don't want to do anything that will compete for a buyer's attention when touring your home.  So putting up a huge blow up witch or ghost in the front yard may not be so helpful if you want people to pay attention to your house and beautifully manicured landscape.
Keep it focused and fresh
Keep items on the front porch clean and looking fresh.  Halloween is supposed to be fun, so normally it probably wouldn't matter.  But it definitely does when you're trying to sell your home!  Items can fade quickly on a porch that gets a ton of sun or develop mold, droop or even develop a nasty odor if left out in the fall rain.  I recommend decorating the front porch no more than 3-4 weeks before Halloween, keep an eye on the weather and make adjustments as needed to keep things fresh and inviting.
Welcome but don't scare!
It is important to remember your goal is to sell your home.  You want guests and potential buyers to feel welcome, safe and comfortable so they can focus on all the nice features your home has to offer.  So stick to decorations that create that atmosphere and avoid anything that might feel more like they are touring a haunted house and might need to jump.
Play it safe
Just as you would normally, make sure you remove any items that may get in the way or cause a guest to trip.  Cords, rugs or hanging items (remember no spiders or vampires!) should be well to the side or up high enough not to interfere when walking through the area.  Candles are a great way to set a seasonal mood but be careful to avoid strong scents that may overpower someone and make a potential buyer leave to avoid turning green.  Stick to light, clean scents like "autumn leaves" or maybe "fall festival."  And definitely keep candles – and lit (friendly!) Jack-or-Lanterns! –on level surfaces away from items that can catch fire.
Be ready to provide info and schedule showings
Safety always comes first when inviting potential buyers into your home. So unless your Realtor® is planning to be on hand for tours, I recommend you limit letting people enter your home on Halloween night to only those people you know or are referred by someone you know.  Either way, your Realtor® can provide copies of flyers to share with anyone who asks about your home.  Also have a notepad and pen handy to get their name and contact info and pass it along to your Realtor® first chance you get.
Clean and stage again
Once the Trick-or-Treaters are officially retired for the season, quickly remove and store any item specific to Halloween. Sweep your front porch and clean the front door to remove all the fingerprints left by ghouls and goblins. And if you kept things simple and autumn focused, you should be able to transition into a harvest mood fairly easily.  Uncarved pumpkins and mums always make a great pairing, so downsizing to just those can be just enough to set a nice tone.  But definitely check to make sure they are still in good shape.
I hope this list is helpful and wish you great success with the sale of your home.  You can reach me at 270.791.4072 or dawnlong@sckyrealestate.com if you have questions or want to schedule a time to discuss suggestions for your home.
Oh yes! Have fun, stay safe and enjoy a Happy Halloween!