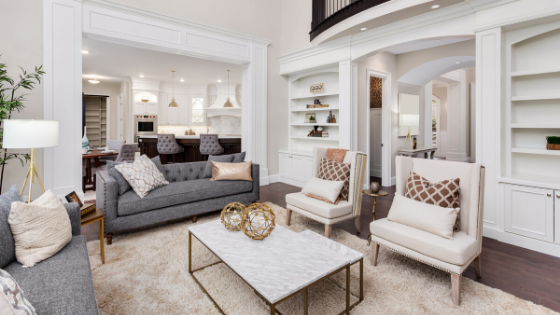 Staging Tips for Great Listing Photos
First impressions count! The majority of buyers start their home searches online, so photos are one of THE most important components of a listing. You want to appeal to as many buyers as possible, so photos that present a clean, organized and attractive home is the goal. If the photos don't grab a buyer's interest right away, they'll likely keep scrolling. Use these tips to make them stop and look at your home.
Start at the curb
Good curb appeal is often what makes a buyer stop the car and walk into the house, so you want as much of it as you can. Nice, established landscaping is a must, so make sure yours is in scale with your home and in good shape. Driveways should be swept, clear of any stains and edges neatly trimmed. Stash trash cans, toys and non-essential items. Clean and paint or replace front door, trim and shutters and make sure any potted plants on the porch are healthy and fresh looking. Don't overdo it with décor.
Welcome Everyone
Listing photos should walk a buyer through your home, so make the most of your foyer and entryway. Turn on all the lights and fresh flowers on the foyer table. Signs and supplies requesting guests remove shoes or wear booties, for example, should be out of site until after photos are taken.
Clear the clutter
Most homes have too many items like furniture and décor for the size of the room. Each room should have a clear function, so make sure furniture serves that purpose. Thin out bookshelves, closets by a third or more if cramped and don't forget cabinets, garages and sheds. Remove heavy window treatments and any oversized items on the walls. Jam-packed areas give the impression they are too small, so store off-site, donate or toss anything you don't need until your move.
Organize furniture and lighting
Arrange furniture so that traffic flow makes sense when you walk into the room. Pushing furniture up against the walls actually makes a room feel smaller, so group furniture pieces together in settings. Less is better, so remove what clearly doesn't fit. Make sure each room is well lit by balancing overhead lights with table and floor lamps. Invest in new lightbulbs that add consistent light and warmth to every room.
Repair or Replace
Buyers are looking for a well maintained home, so anything broken or dated makes them question what else needs attention. So if you know it's broken – or is on its last leg – repair or replace it. Light fixtures, ceiling fans, faucets, blinds and light switches all need to work and be in scale for the room. Touch up chips and scratches on furniture, floors, walls and ceilings. If needed, paint "seam to seam" to avoid a patched appearance.
Deep clean
Buyers are buying every room in your house, so it all has to be and look clean. Kitchens and bathrooms in particular have to be seriously scrubbed and appear fresh and clean. Remove everything but one or two strategic essentials on counters and make sure blinds, windows, mirrors and anything with a reflection shines. Floors, baseboards and trim must be clean, so hire a cleaning crew if needed to make your home sparkle.
Keep it neutral
Personal items can make people feel like they're intruding and downright uncomfortable, so remove anything that may prevent a buyer from imaging their personal things in the space. Remove personal pictures, figurines and collectables. Paint walls in a neutral color that will unite the space, but be careful with white. Too much feels cold and sterile.
Balance seasons
Take photos before you decorate for holidays and treat your outdoor entertaining areas like interior rooms. Clean and furnish with essentials only even if you're not using them at the moment to show function and scale. Arrange and freshen large patio furniture but remove any folding chairs and tables to avoid a cluttered appearance. You can cover or store them after photos. And if you have a pool, hot tub or sauna, make sure they are fresh and clean or neatly closed. Gardens should be active or cleared for the season.
Remove Evidence of Pets
For every buyer who loves pets, there's one that doesn't. You want both to look at your house, so remove all pets and their beds, kennels, litter boxes, dishes and toys. Leave only gates that are anchored to walls and doorways, if needed. Remove all smudges from walls, door trim and floors and repair or replace anything chewed, scratched or damaged. Doors, fences and gates need to be in good condition and function, so replace storm doors to compliment exterior doors whenever possible.
Update if you can
Timing is everything with trends, so often updating wall color, window treatments, and fixtures can really bring new life to a room. Remove dated wallpaper, paint that accent wall and replace the flower arrangements you've had for years. New bedding, bath towels, lamps or lampshades in neutral colors and wall décor in classic or neutral themes can give a room new energy and value. Recycle items from other rooms first or buy or borrow a few inexpensive items to brighten and freshen the look and feel of your home.
Work with a professional
Great listing photos can make or break a property's launch into market, so invest the time and effort to get create effective ones that that will appeal to as many buyers as possible. A professional photographer will know how to work with natural and artificial light, so be prepared to accomodate specific appointment times. And don't be offended if the photographer moves or rearranges items during the photo shoot. Adjustments may be needed to capture the right angle and scale of a room.
If you're thinking of selling your home, contact me at dawnlong@sckyrealestate.com or just give me a call. I provide staging services with my listings and am happy to answer your questions or schedule a time to visit and share recommendations about your specific property. I'm never too busy to help you or any of your referrals!