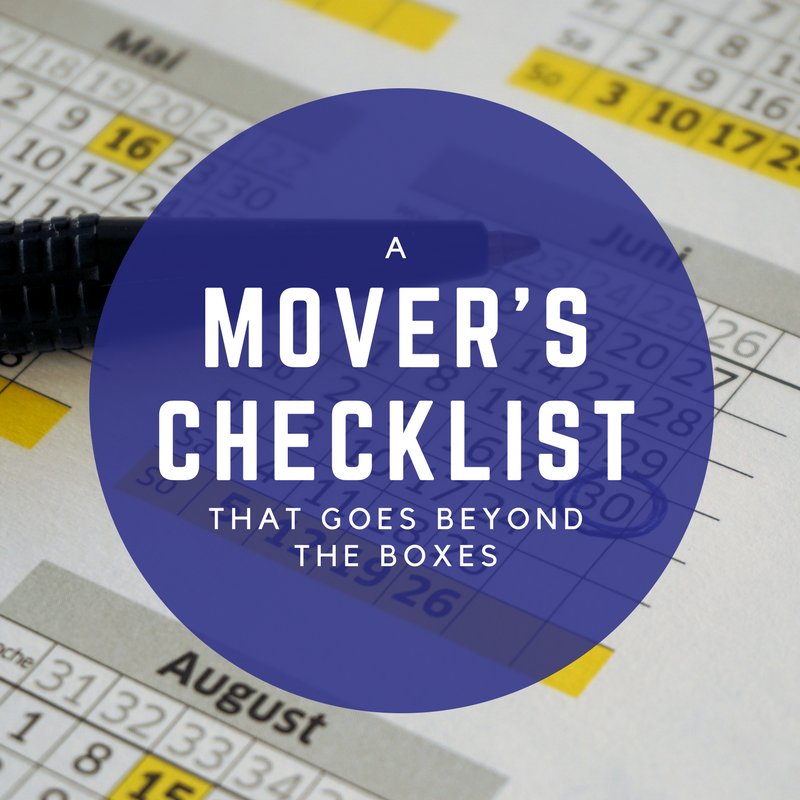 A Mover's Checklist That Goes Beyond the Boxes
If you have decided to move soon, you need a mover's checklist that goes boxes and packing supplies.  Of course, you have to first decide to either hire a professional or to pack and move all those boxes yourself.  If you go the DIY route, I highly recommend throwing a pizza party with really great beverages for all the fabulous friends and relatives you expect to show up on Move Day. Trust me. It's worth it.
But either way, there's a lot more to moving than packing and unpacking boxes.  So with the arrival of warm weather and buying/selling season, I decided to share a mover's checklist that covers many of the other important things that need to be done but are often forgotten during a move. Of course, all the time lines are estimates to get you started.
As soon as you know your new address and move date:
Get organized – and stick to the plan! Whether you are tech savvy or prefer to buy a cheap spiral notebook, set up a system that you will realistically and actually use and keep up with your to do list.  Hopefully you will check off more than you will add, but you need a place to store (and easily find!) all that detail.
Update your inventory for insurance. If you have one, add any big ticket items and photos. If you don't, take photos of each room and of special items before you start packing.
Notify schools of new address and request records be transferred, if needed.
Schedule important medical or dental appointments before or after the move and request records be transferred, if needed. Not sure? Call your care provider – and your insurance carrier if you are moving beyond your usual service area.
Start looking for a sitter for your kids if they are too young to help.
Make plans for your fur babies to stay with a friend or at a boarding kennel. Like us, our four legged family members aren't crazy about change and can get anxious, so you may also want to talk with your vet about strategies and treatments to help keep them calm.
Complete a Change of Address form at your local post office or on-line at https://managemymove.usps.com. Completing it on-line makes it easier if you need to adjust the date.
Notify your utility companies. Be sure to schedule them to turn off at the old address the date after your move and to turn on at the new home a 2-3 days before you expect to move in.
Notify waste & recycling companies. Some will need a full cycle to make the change, so be sure to tell them you will have extra to pick up at both the old and new addresses.  Contact http://www.scottwaste.com or Taylor Sanitation at (270) 793-2437 in Bowling Green/Warren County.
Schedule a cleaning company and/or carpet cleaners to clean your new home a day or so before you are scheduled to move in. And if needed, schedule them to help with your final cleaning of your old house.
10-14 days before Move Day:
Plan meals and limit shopping. Inventory your refrigerator, freezer and pantry and start planning meals around what you already have.  Share or toss anything you know you won't use before the move. The less you have to move and store, the better!
Notify cable, internet and phone services. Like utilities, be sure to schedule a turn off at old address and installation at your new address.  Depending on your move, you may need to collect or pay deposits or return equipment.  So be sure to ask now vs later.
Back up all things technology. Collect all your computers, cell phones, tablets and anything you use regularly and have to charge and back everything up so you can't lose it during the move.  And while you have it all in one place, I suggest you create a new (easy to find) charging station to hold you until Move Day.
Change address with creditors and financial institutions. And if you bank with a regional bank and are moving out of town, get references and set up a new account in your new community.  Oh yes!  Order new checks be delivered to your new address if you still you use them.
5-7 days before Move Day:
Empty the gas and oil out of your lawn equipment. Lawn mower, weed and shrub trimmers, blowers, chainsaws and anything else in your garage you may have not used in a while.   For instructions on proper disposal of those and other Hazardous Household Materials in Bowling Green/Warren County, visit https://www.bgky.org/citizen-resource-guide/topic/52.
Schedule locks to be changed or installed. Call a locksmith and arrange to have locks installed in your new home. Garage door, garden sheds and pool houses, too!
1-3 days before Move Day:
Withdraw cash for unexpected expenses during the move.
Unplug and defrost your refrigerator and freezer so you have time to clean, dry and move remaining items. Borrow big coolers (with wheels are the best!) and make a plan for bags of ice.
Pack a big Family Survival Bag with items for every family member. Moving is just not a precise process, so having a bag you can stock with favorite treats, games and activities for kids and fur babies, a first aid kit, prescription and over the counter medications, a flashlight, sunscreen, hand wipes, toilet paper and any other essential you think you could need but can't find once the packing starts.
Pack a small cooler with cups and whatever beverage you use to celebrate so you can toast your arrival in your new home once you get there.
Move Day
And last but not least, I hope you will take a final family photo in your old home before leaving for your new one. You might not think it's that important during all the chaos and boxes, but you will enjoy looking at it later.
Whew!  If you thought of things as you read this, add them now while you're still thinking about it.  If not, hit print and start checking things off the list!